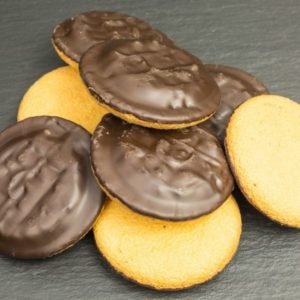 Jaffa Cakes Recipe
The traditional Jaffa cake is something of a British icon. Known as biscuits in Britain and called cookies in the United States, these treats have a layer of sponge topped with a sweet orange jelly and finished off with plain chocolate (semi-sweet chocolate). Well-loved in Britain, Jaffa cakes are easy to find and relatively cheap to buy. Making the cakes is easy and a lot of fun; just keep in mind the chocolate coating won't look as perfect as the store-bought versions. You will need an orange jelly tablet and Seville orange marmalade for this recipe, both of which can be purchased online.
Ingredients  
Instructions 
Gather the ingredients. Preheat the oven to 350 F/180 C.

Grease a shallow muffin tin with the butter and set it aside. 

Break up the tablet of jelly cubes and place into a heatproof bowl or jug. Cover with the boiling water and stir well until the jelly dissolves.

Stir in the marmalade and set aside to cool slightly.

While the jelly is cooling, line a 10- by 10-inch tray or Pyrex square bowl with plastic wrap. Pour in the jelly mixture and place in the refrigerator to set, which will take about 45 minutes.

Place the egg and sugar into a bowl and, using an electric hand mixer, beat until light, creamy, and pale in color.

Sift the self-rising flour into the bowl. Using a metal tablespoon, fold the sifted flour into the egg mixture.

Drop a generous tablespoon of batter into each cup of the muffin tin. Tap the tin gently on the worktop before placing it in the center of the preheated oven.

Bake until golden and slightly firm (the sponge should spring back when pressed lightly), 8 to 10 minutes.

Remove from the oven and leave to cool in the tin for 10 minutes before removing the biscuits and placing them on a cooling rack.

Remove the chocolate from the heat as soon as it's melted and leave to cool. As the chocolate cools it will thicken and eventually harden so it may need to be heated slightly before covering the cakes.

Place each biscuit on the cooling rack as you complete them.
Notes
Nutrition Information:
7g Fat
23g Carbs
2g Protein