When aiming for weight loss, it's important to make informed choices about the foods we consume. Desserts, in particular, are often associated with indulgence and high calorie content.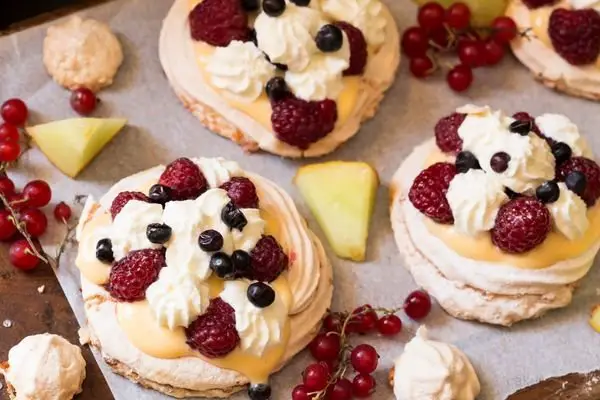 What is Pavlova Cake?
Pavlova cake is a dessert named after the famous Russian ballerina, Anna Pavlova. It typically consists of a crisp and delicate meringue base made from egg whites and sugar.
The meringue is then baked to achieve a crispy exterior while maintaining a soft and marshmallow-like interior. The cake is traditionally topped with whipped cream and an assortment of fresh fruits such as strawberries, kiwi, and passion fruit.
Nutritional Profile of Pavlova Cake
To understand whether Pavlova cake is suitable for weight loss, it's essential to examine its nutritional composition.
The exact nutritional values may vary depending on the recipe and toppings used. However, in general, Pavlova cake tends to be low in fat and cholesterol but moderately high in sugar.
Low in Fat and Cholesterol
Pavlova cake is typically made without adding any fat or cholesterol-rich ingredients. The meringue base is primarily composed of egg whites and sugar, containing minimal fat.
This aspect can be beneficial for weight loss as a low-fat diet is often recommended.
Moderately High in Sugar
On the other hand, Pavlova cake contains a significant amount of sugar due to the sweet meringue and the addition of whipped cream and fruits.
Excessive sugar intake can be problematic for weight loss as it provides empty calories without contributing much to satiety.
It's important to be mindful of the sugar content in Pavlova cake, especially for those following a low-sugar or low-carbohydrate diet.
High in Calories
Pavlova cake is relatively high in calories compared to other desserts. The meringue base and the addition of cream and fruits contribute to its calorie density.
Weight loss usually requires creating a calorie deficit, where the calories consumed are lower than the calories burned.
Including high-calorie desserts like Pavlova cake can make it challenging to achieve this deficit without careful portion control.
Potential to Cause Overeating
The light and fluffy texture of Pavlova cake, combined with its sweet and fruity toppings, can make it easy to overindulge.
Its palatability and visual appeal can lead to a lack of portion control. Eating large portions of Pavlova cake regularly may hinder weight loss efforts.
Incorporating Pavlova Cake in a Weight Loss Diet
While Pavlova cake may not be the ideal choice for everyday consumption during weight loss, it can still be enjoyed in moderation.
Here are some strategies to incorporate Pavlova cake into a weight loss diet:
Portion Control
When indulging in Pavlova cake, it's important to practice portion control. Instead of having a large slice, opt for a smaller portion to satisfy your sweet tooth without consuming excessive calories.
Enjoying a small piece can still provide the pleasure of the dessert without sabotaging your weight loss goals.
Balance with Nutritious Foods
To maintain a balanced diet while including Pavlova cake, ensure that the rest of your meals consist of nutritious, whole foods. Prioritize consuming a variety of fruits, vegetables, lean proteins, whole grains, and healthy fats.
By balancing the indulgence of Pavlova cake with nutrient-dense foods, you can still achieve your weight loss goals while enjoying occasional treats.
Occasional Indulgence
Rather than incorporating Pavlova cake into your daily routine, reserve it for special occasions or as an occasional treat.
By treating it as a rare indulgence, you can fully savor and appreciate the dessert while maintaining a calorie-controlled diet for weight loss.
Other Factors to Consider for Weight Loss
When evaluating the impact of Pavlova cake on weight loss, it's essential to consider other factors that play a significant role:
Overall Caloric Intake
Weight loss is primarily influenced by creating a calorie deficit. Even if you consume Pavlova cake in moderation, it's important to ensure that your overall caloric intake aligns with your weight loss goals.
Pay attention to the total calories consumed throughout the day, including the Pavlova cake, and make adjustments as necessary.
Physical Activity
Incorporating regular physical activity into your weight loss journey is crucial. Exercise helps burn calories, boosts metabolism, and supports overall health. By combining Pavlova cake consumption with an active lifestyle, you can mitigate its impact on weight loss.
Individual Needs and Preferences
Each person's weight loss journey is unique, and what works for one may not work for another. Consider your individual needs, preferences, and dietary restrictions when deciding whether to include Pavlova cake in your weight loss diet.
It's essential to find a balance that supports sustainable weight loss while still enjoying the foods you love.
FAQs
Can I eat Pavlova cake every day while trying to lose weight?
While it's best to avoid consuming Pavlova cake every day during weight loss, you can enjoy it occasionally in moderation.
How can I reduce the calorie content of Pavlova cake?
To reduce the calorie content of Pavlova cake, you can opt for lower-calorie alternatives like using whipped yogurt instead of cream or reducing the amount of sugar in the meringue.
Are there any healthier dessert options for weight loss?
Yes, there are plenty of healthier dessert options for weight loss. Some alternatives include fruit salads, Greek yogurt with berries, chia pudding, or dark chocolate with nuts.
Can I substitute the sugar in Pavlova cake with a sugar substitute?
Yes, you can use sugar substitutes like stevia or erythritol in the meringue base of Pavlova cake. However, be aware that the texture and taste may differ slightly from the traditional recipe.
Should I completely eliminate desserts from my weight loss diet?
No, you don't have to completely eliminate desserts from your weight loss diet. It's about finding a balance and enjoying treats in moderation while prioritizing nutritious foods.
Conclusion
Pavlova cake, with its delicate meringue base and luscious toppings, is undoubtedly a delightful dessert. However, when it comes to weight loss, moderation and mindful consumption are key.
While Pavlova cake is not inherently conducive to weight loss due to its calorie and sugar content, it can still be enjoyed occasionally as part of a balanced diet.