Are you looking to turn your passion for baking into a full-fledged business? Look no further than becoming a home baker!
Not only is it a fulfilling and creative endeavor, but it also provides the opportunity to share your baked goods with others and potentially earn an income.
Baking is a wonderful hobby that can be enjoyed by anyone, regardless of their skill level. With a little bit of practice, patience, and the right equipment, anyone can become a skilled home baker.
Whether you're a beginner or an experienced home cook, this guide will help you get started on your journey to becoming a home baker.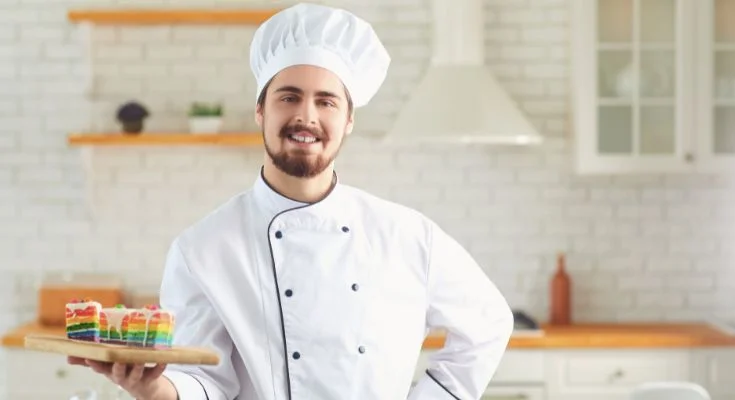 What is a Home Baker?
A home baker is someone who operates a baking business from their own kitchen, instead of a commercial kitchen. The business is usually limited to selling baked goods directly to consumers, rather than wholesaling to retailers.
Here are the top tips for becoming a good baker.
Learn how to knead dough
It is the most important step to learn how to bake cake or bread, cake or anything. If you don't know how to knead dough then it is the end of your dream. To knead dough you need a bowl, an oven, a spoon, a rolling pin and a knife. You need to mix flour, yeast, salt, water and add a little bit of butter or oil. Then add the dough and knead it properly.
Know the basics of baking
When it comes to baking the most important thing is the ingredients. You need to know the basic ingredients of a perfect bread. The flour, salt, sugar, butter, yeast and eggs are the basic ingredients of a perfect loaf. Learn how to use these basic ingredients to make a perfect loaf.
You need to know that a baking pan is a baking tool. It is used to transfer the baked products from the oven. It can be made of different materials like metal, glass, ceramic or wood. You need to buy the baking pan according to your needs and choose the right size.
Know to make a perfect pie crust
The most important and common ingredient of a perfect pie crust is flour. You need to know that you can make your own pie crust at home. Mix the flour, butter, sugar and salt to make the dough. Now, roll it out to a thin circle.
Learn to make the batter
There are so many recipes available on the internet and you can also learn them by yourself. But, if you want to learn a perfect recipe for making cakes and pastries then you should try it.
Understanding Baking Basics
The first step in becoming a home baker is to understand the basic principles of baking. Baking is a science, and it's important to understand how ingredients interact with one another to produce the desired results.
You'll need to learn about ingredients like flour, sugar, and yeast, as well as the importance of measurements and temperature control.
Gathering Essential Equipment
Once you have a basic understanding of baking principles, you'll need to gather some essential equipment.
A well-stocked kitchen is essential for baking success, and you'll need items like mixing bowls, measuring cups, a baking sheet, and a good set of baking utensils.
If you're serious about baking, investing in a stand mixer will make your life much easier, but a hand mixer will work just fine as well.
Finding Recipes and Practice, Practice, Practice
With the right equipment in hand, it's time to start baking! The best way to improve your baking skills is to practice, so don't be afraid to try new recipes and experiment with different ingredients. Start with simple recipes like cookies or muffins and work your way up to more complex baked goods like cakes and breads.
Tips for Success
As you start to bake more and more, you'll develop your own tips and tricks for success. Here are a few to get you started:
Read the recipe completely before you start, and make sure you have all the ingredients on hand.
Follow the recipe exactly as written, especially when it comes to measurements and temperature control.
Take your time and don't rush the process. Baking is a methodical process, and rushing will only lead to mistakes.
Don't be afraid to make mistakes. Baking is a learning process, and you'll only get better with practice.
Baking with Special Diets in Mind
For those with special dietary needs, baking at home is a great way to control what goes into your food. Whether you're gluten-free, vegan, or have other dietary restrictions, there are plenty of recipes and ingredients available to suit your needs.
With a little research and experimentation, you'll be able to bake delicious treats that meet your dietary requirements.
Decorating and Presentation
Finally, once your baked goods are out of the oven, it's time to think about presentation. A beautiful, well-decorated cake or plate of cookies can make all the difference when it comes to impressing your friends and family.
Whether you're a fan of buttercream frosting or prefer to decorate with fresh fruit and whipped cream, there are plenty of ways to make your baked goods look as good as they taste.
Why Should You Become a Home Baker?
Flexibility: Running a home-based baking business allows you to set your own schedule and work around other commitments, such as family or a full-time job.
Low overhead costs: Without the need for a commercial kitchen or retail space, the overhead costs for a home baking business are significantly lower.
Ability to work with passion: If you have a true passion for baking, starting a home baking business allows you to turn that passion into a career.
How to Start Your Home Baking Business
Develop your baking skills: Whether through attending baking classes or self-study, it's important to hone your baking skills to ensure that your baked goods are of the highest quality.
Conduct market research: Determine what types of baked goods are in high demand in your area and what price points are appropriate.
Create a business plan: This should include your business goals, target market, pricing strategy, and marketing plan.
Obtain necessary licenses and permits: This will vary depending on your location, but may include a food safety certificate, business license, and food handler's permit.
Set up your kitchen: Your kitchen must meet certain standards, such as having a separate area for food preparation and storage.
Create a strong online presence: This includes building a website, creating social media accounts, and listing your business on online directories.
Marketing Your Home Baking Business
Utilize word of mouth: Encourage satisfied customers to spread the word about your baked goods.
Offer special promotions and discounts: This can be a great way to attract new customers and build a loyal following.
Participate in local events: Attend local farmers' markets, food festivals, and other events to promote your baked goods.
Growing Your Home Baking Business
Expand your product line: Offer a variety of baked goods to appeal to a wider customer base.
Offer delivery and pickup options: This makes it easier for customers to enjoy your baked goods.
Partner with local businesses: Consider partnering with coffee shops, restaurants, and other businesses to sell your baked goods.
Becoming a home baker can be a rewarding and profitable venture. With hard work, dedication, and a passion for baking, you can turn your dream into a reality.
Final Thoughts
In conclusion, don't be afraid to fail. A successful bakery starts with failure. When you fail at something, it's always better to fail fast than to keep trying until you succeed. So, instead of getting frustrated if you don't get it right on the first try, make a few mistakes and learn from them. This is the best way to find success in your baking ventures. And remember, mistakes are part of the process!