Mimosa Cake is a dessert that has captured the hearts of many with its light and fluffy texture and the unmistakable aroma of fresh orange blossoms. It is a cake that embodies the essence of spring and new beginnings.
In this article, we will take you on a journey through the history of Mimosa Cake, exploring its origins, ingredients, and popularity worldwide.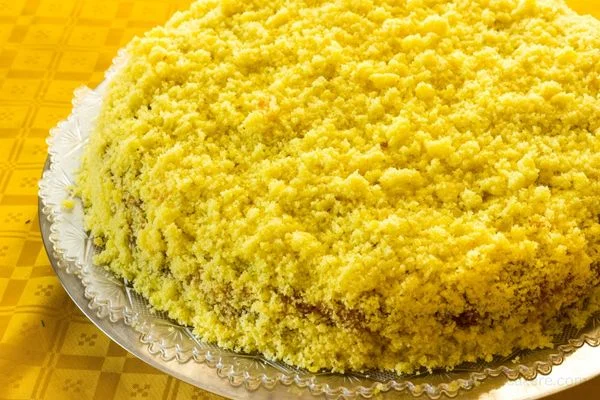 Origins of Mimosa Cake:
Mimosa Cake, also known as Torta Mimosa in Italy, originated in the Italian region of Liguria. It is believed to have been created by the renowned pastry chef, Camille Alciati, in the early 1900s. The cake was created to commemorate International Women's Day, which is celebrated on March 8th. The Mimosa flower, which blooms during this time of year, was used to symbolize the strength and resilience of women.
Ingredients of Mimosa Cake:
The key ingredient that sets Mimosa Cake apart is the orange blossom water, which gives the cake its distinctive floral flavor. Other ingredients include flour, sugar, eggs, butter, and baking powder. The cake is typically layered with pastry cream or whipped cream and decorated with mimosa flowers made from buttercream or sugar paste.
Popularity of Mimosa Cake:
Over the years, Mimosa Cake has become a popular dessert not only in Italy but also in other countries such as France, Spain, and the United States. It is a staple in many bakeries, cafes, and restaurants, especially during the spring season. The cake has also become a popular choice for bridal showers, baby showers, and other special occasions.
How to Make Mimosa Cake:
Making Mimosa Cake is relatively simple, and it can be made with a few basic ingredients. Here is a recipe for Mimosa Cake:
Ingredients:
1 ½ cups all-purpose flour
1 ½ teaspoons baking powder
1 cup granulated sugar
½ cup unsalted butter, softened
3 eggs
1 teaspoon orange blossom water
1 cup heavy cream, whipped
Instructions:
Preheat the oven to 350°F (175°C). Grease and flour an 8-inch cake pan.
In a mixing bowl, combine the flour and baking powder.
In a separate bowl, cream the butter and sugar until light and fluffy.
Add the eggs, one at a time, and mix well after each addition.
Add the orange blossom water and mix until well combined.
Gradually add the flour mixture to the butter mixture and mix until just combined.
Pour the batter into the prepared pan and bake for 25-30 minutes or until a toothpick inserted in the center comes out clean.
Allow the cake to cool completely before slicing it in half horizontally.
Spread whipped cream on the bottom layer of the cake and place the top layer on it.
Cover the cake with more whipped cream and decorate with mimosa flowers made from buttercream or sugar paste.
FAQs
Can I use other types of flowers instead of mimosa flowers?
Mimosa flowers are the traditional decoration for Mimosa Cake, but you can use other edible flowers such as roses, lavender, or violets.
Is it necessary to use orange blossom water in the cake?
Yes, orange blossom water is a key ingredient in Mimosa Cake, and it gives the cake its unique floral flavor.