A pound of each of the following four components is usually used to make pound cake: flour, butter, eggs, and sugar. Loaf pans or Bundt molds are typically used to prepare pound cakes. They may be served with an icing coating, a thin glaze, or a dusting of powdered sugar. Pound cake's primary ingredients are flour, butter, sugar, and eggs.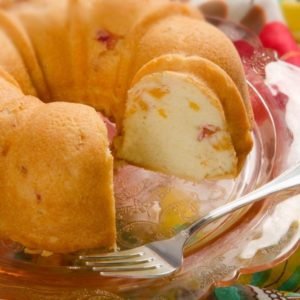 Easy pound cake Recipe
Bring a smile to your friends and family with a slice of our vanilla pound cake. It's the perfect partner to a cuppa for elevenses or afternoon tea
Ingredients  
200

g

 unsalted butter , softened

200

g

 caster sugar

3

pic

 eggs , beaten

200

g

self-raising flour

1

tsp

 baking powder

3

tbsp

 whole milk

1

tbsp

 vanilla paste / ½ vanilla pod seeds
For the icing
125

g

icing sugar

1

tbsp

 vanilla paste / ½ vanilla pod seeds
Instructions 
Pre-heat oven to 180C/160C fan/gas 4 and line a 900g loaf tin with parchment paper (mine was 19cm x 9cm x 6cm). Put all of the ingredients except those for the icing into a large bowl and beat together, either using an electric hand whisk or a wooden spoon until smooth and combined. Pour the mix into the loaf tin and spread evenly with the back of spoon. Bake for 40 – 45 mins.

Once out of the oven, leave to cool and make the icing. Combine the icing sugar and vanilla paste with three tbsp of water – you may need more but add it gradually to get a thick icing. Spread it over the top of the cake; it's fine if it drips down the edges. Allow to set and then slice. 
Notes
Nutrition Information:
fat 23g
saturates 14g
carbs 62g
sugars 43g
fibre 1g
protein 5g
salt 0.46g
Final Thought:
The classic pound cake has several variations, with other nations and areas having their own versions. These can involve making adjustments to the original recipe to change the properties of the final pound cake, as well as the addition of flavorings (like vanilla extract or almond extract) or dried fruit (like currants or dried cranberries). To achieve leavening during baking, for instance, baking soda or baking powder may be used, resulting in a less dense pound cake. In order to create a moister cake, butter can occasionally be replaced with cooking oil (usually vegetable oil). In the United States, a popular variant called "sour cream pound cake" substitutes sour cream for