Chestnut and chocolate are two flavors that were meant to be together. With their complementary textures and rich, indulgent taste, they are the perfect pairing for a special occasion or simply to satisfy your sweet tooth. This recipe for chocolate chestnut cake is easy to follow and will result in a truly magnificent dessert.
Ingredients
Cake:
baking spray
1 cup 60% cacao bittersweet chocolate morsels (such as Ghirardelli®)
¾ cup hot brewed coffee
4 large eggs, at room temperature
¾ cup canola oil
¾ cup sour cream, at room temperature
1 teaspoon vanilla extract
2 ⅓ cups all-purpose flour
2 cups granulated sugar
¼ cup unsweetened cocoa powder
1 teaspoon kosher salt
1 tablespoon baking soda
½ teaspoon baking powder
1 cup finely chopped roasted chestnuts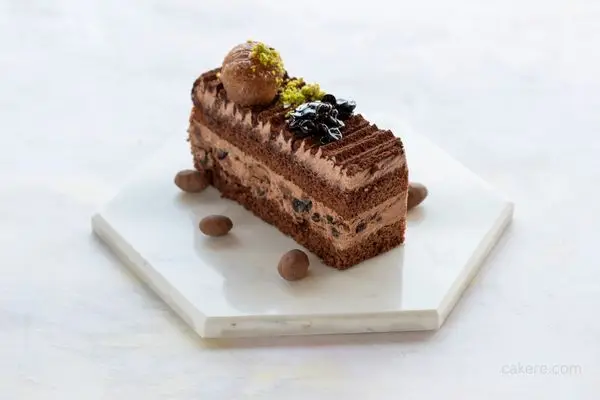 Filling:
1 cup powdered sugar
¾ cup salted butter, softened
2 (3.5 ounce) cans chestnut spread
Glaze:
8 ounces bittersweet chocolate, chopped
1 ¼ cups heavy whipping cream
2 tablespoons light corn syrup
Directions
Preheat oven to 350°F (175°C) and grease 3 (9-inch) cake pans.
Combine chocolate chips and hot coffee in a bowl. Let stand 2 minutes then stir until chocolate melts, 1-2 minutes. Whisk in eggs, oil, sour cream, and vanilla to make a smooth batter.
In another large bowl, mix together flour, sugar, cocoa powder, salt, baking soda, and baking powder. Stir in the chocolate mixture and fold in chopped chestnuts. Divide batter equally among pans (2 cups each).
Bake in oven until a wooden pick inserted in center comes out clean, 18-20 minutes. Cool in pans for 10 minutes, then invert onto wire rack and cool completely (1 hour). Trim cakes flat if needed.
In a large bowl, beat powdered sugar, butter, and chestnut puree with an electric mixer until creamy (2 minutes). Place 1 cake layer on a cardboard round and spread half the filling on it, slightly past the edge (1 cup). Repeat with another cake layer and remaining filling. Top with final cake layer and smooth excess frosting. Chill cake for 20 minutes.
For glaze, place chocolate in a glass measuring cup with a spout. Simmer cream and corn syrup in a saucepan, then pour over chocolate. Let stand 2 minutes and stir until smooth. Cool to 37-40°C (100-105°F), stirring occasionally. Pour over chilled cake and let stand 1 minute. Remove excess glaze and chill until set (1 hour).
Tips and Tricks
For a more intense chestnut flavor, use chestnut puree instead of chestnut flour.
To make a gluten-free version of this cake, use a combination of chestnut flour and almond flour instead of all-purpose flour.
To add a twist to the cake, try frosting it with a dark chocolate ganache or a creamy chestnut spread.
Conclusion
This chocolate chestnut cake is a delicious, easy-to-follow recipe that is sure to become a favorite. Whether you're looking to impress your guests at a dinner party or simply want to enjoy a sweet treat, this cake is the perfect choice. So why wait? Preheat your oven and start baking!
Read more about Chocolate Cake Recipe