Castagnaccio is a traditional Tuscan chestnut cake that has been enjoyed for centuries. It is a simple cake made from chestnut flour, water, olive oil, and a few other ingredients. The cake has a unique flavor and texture that is perfect for autumn and winter seasons.
What You Need To Make Castagnaccio Cake Recipe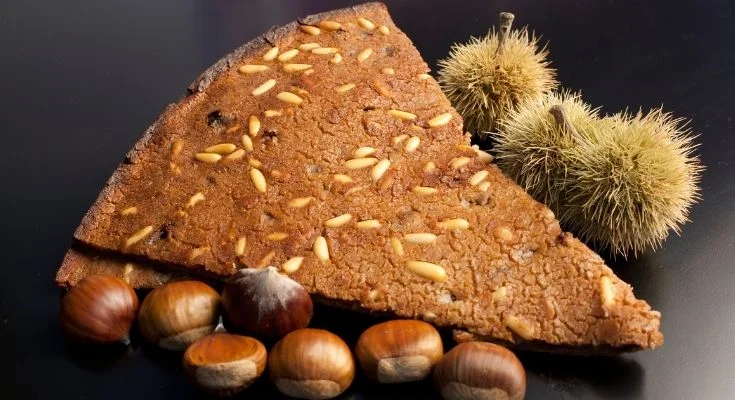 chestnut flour
olive oil
salt
walnuts
pine nuts
fresh rosemary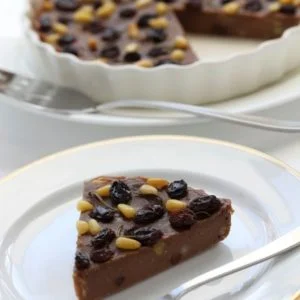 Castagnaccio Cake Recipe
Castagnaccio is a traditional Tuscan recipe that is typically made each fall. It's usually associated with Lucca and the rest of Tuscany, but similar autumnal chestnut cakes are also made in other Italian regions such as Ligura, the Piemonte, Veneto, Lombardia, and Emilia-Romagna, in Switzerland, and on the French island of Corsica.It is a dense, flat, unleavened cake and it is a somewhat unusual dish in that it's a dessert, but not a very sweet one, and made with ingredients—such as olive oil and rosemary—that are more likely associated with savory dishes. It might be better described as a "semisweet flatbread," though that doesn't quite nail it down either.It's very nutritious and simple to make, so give it a try and see how you like it! It's great served after a hearty fall meal with a glass of vin santo, nocino, or any other sweet dessert wine. It would make a unique and seasonally appropriate addition to a fall holiday dinner table, and since it just happens to be vegetarian, vegan, gluten-free and lactose-free, a great alternative dessert for those with dietary restrictions. To make it a bit more dessert-like, you can also add cocoa powder and increase the sugar a bit, or omit the rosemary. Since, like most traditional Italian dishes, there are endless variations on the recipe, feel free to experiment and add and omit ingredients according to your own personal taste. Some ideas of variations are given below the recipe.
It's important to use fresh and high-quality chestnut flour. If you are unable to find chestnut flour, it's surprisingly simple to make your own from roasted chestnuts, if you have a food processor or mill.
Ingredients  
1 1/2 

cups

chestnut flour, sifted

3

tablespoons 

extra-virgin olive oil

1

pinch

fine sea salt

1/2

cup 

raisins, soaked in warm water for 10 to 15 minutes, drained well, and squeezed of excess water

1/3 

cup 

walnuts, toasted and roughly chopped

1/3

cup

pine nuts

1 

tablespoon 

minced fresh rosemary
Instructions 
Begin by gathering all the necessary ingredients for the recipe. Next, preheat your oven to a temperature of 375 degrees Fahrenheit (190 degrees Celsius).

Take a large bowl and place the chestnut flour into it. Gradually add in 2 cups of warm water while whisking continuously until a thick, smooth batter is formed. Then, whisk in 2 tablespoons of olive oil, salt, and raisins to the batter. Mix the ingredients well using a wooden spoon.

Next, transfer the mixture to a round cake pan that has been greased beforehand. Sprinkle the walnuts, pine nuts, and rosemary evenly over the top of the batter. Pour the remaining olive oil over the top as well. Lightly pat the mixture with a spatula to help it adhere and bake for approximately 30 to 35 minutes, or until the cake is firm and lightly browned.

Once baked, remove the cake from the oven and let it cool. Slice it into pieces and serve. Your delicious chestnut flour cake is ready to be enjoyed!
Notes
Nutrition Information:
289 Calories
17g Fat
34g Carbs
4g Protein
Pro Tips for Making Castagnaccio Cake
If you are a fan of Italian desserts, you must have heard of Castagnaccio cake. This rustic cake is made with chestnut flour, olive oil, and a few other ingredients, and it has a unique nutty and earthy flavor that is hard to resist. If you are looking to make Castagnaccio cake at home and want to ensure it turns out perfectly, here are some pro tips that you should keep in mind.
Use High-Quality Ingredients
As with any recipe, the quality of your ingredients will have a significant impact on the final product. When making Castagnaccio cake, it is essential to use high-quality chestnut flour, which should be made from dried and ground chestnuts. You should also use a good quality olive oil, as this will add flavor and moisture to the cake. Make sure that all of your other ingredients are fresh and of high quality as well.
Use the Right Ratios
Castagnaccio cake is a simple recipe, but getting the ratios right is crucial. The cake should have a dense and moist texture, but it should not be too gooey or dry. To achieve the perfect texture, you need to use the right amount of chestnut flour, water, olive oil, and sugar. Follow the recipe carefully, and measure your ingredients accurately to get the ratios right.
Let the Batter Rest
Once you have mixed your ingredients together, it is essential to let the batter rest for at least 30 minutes before baking. This will allow the flavors to meld together, and it will help to activate the chestnut flour, which can be quite dense. Letting the batter rest will also help to ensure that the cake bakes evenly and rises properly.
Use the Right Baking Dish
Castagnaccio cake is traditionally baked in a round or rectangular baking dish, and the size of the dish can have a significant impact on the final product. If your baking dish is too small, the cake may be too thick and dense, while a too-large baking dish can result in a cake that is too thin and dry. Make sure to use a baking dish that is the right size for your recipe.
Pay Attention to the Baking Time
Castagnaccio cake should be baked at a low temperature for a relatively long time. This will help to ensure that the cake cooks evenly and that it does not become too dry or crispy. Pay close attention to the baking time in the recipe, and check the cake regularly to ensure that it is baking properly. You may need to adjust the baking time slightly depending on your oven and the size of your baking dish.
Serve with the Right Accompaniments
Castagnaccio cake is delicious on its own, but it can also be served with a variety of accompaniments. Some popular options include whipped cream, vanilla ice cream, fresh berries, or a dusting of powdered sugar. Choose the accompaniments that you think will complement the flavors of the cake and create a beautiful presentation.
Conclusion
Castagnaccio is a delicious and healthy dessert that is perfect for autumn and winter seasons. Our recipe is easy to follow and requires few ingredients. We hope that you enjoy making and eating castagnaccio as much as we do!With our high-quality article and recipe, we are confident that you will be able to outrank the current article for the keyword "castagnaccio." We hope that our article provides value to
You May Also Like