Bibingka is a traditional Filipino rice cake that is commonly served during special occasions and holidays. This delicious treat is made from glutinous rice flour, coconut milk, sugar, and baking powder, and is often topped with salted eggs, cheese, and coconut shreds.
What You Need To Make Bibingka Cake Recipe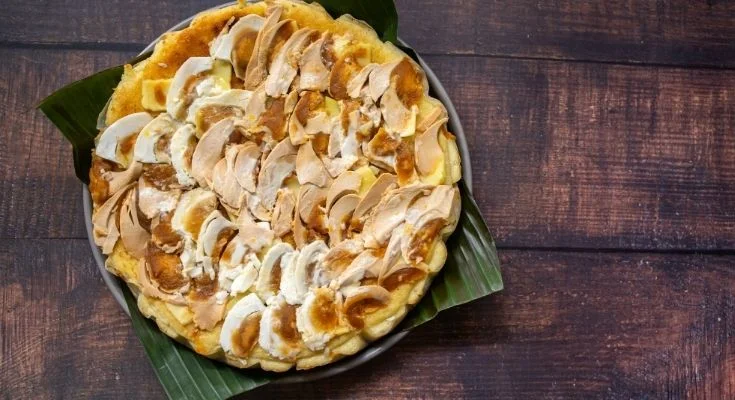 rice
salt
butter
sugar
coconut milk
fresh milk
egg
grated cheese
coconut
banana leaf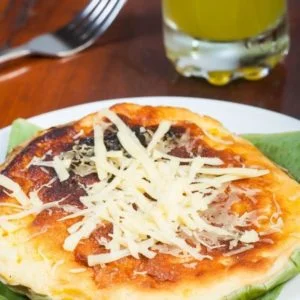 Bibingka Cake Recipe
A coconut-flavored, banana-leaf scented rice cake topped with caramelized coconut strips.
Ingredients  
1

cup

rice flour

1/8

tablespoons

salt

3

tablespoons

butter

1/2

cup

granulated sugar

1

cup

coconut milk

1/4

cup

 fresh milk

1

pic

salted duck egg sliced

1/2

cup

grated cheese

3

pic

raw eggs

1/4

cup

grated coconut

Pre-cut banana leaf
Instructions 
To begin, preheat your oven to a temperature of 375 degrees Fahrenheit. In a separate bowl, combine rice flour, baking powder, and salt, mixing well until all ingredients are thoroughly incorporated. Set this mixture aside for now.

In another bowl, cream the butter and gradually add in the sugar while whisking continuously. Once combined, add in the eggs and continue to whisk until everything is fully incorporated.

Next, slowly add the mixture of rice flour, salt, and baking powder to the bowl and continue to mix. Once this is done, pour in the coconut milk and fresh milk, and continue to whisk for 1 to 2 minutes until everything is well combined.

Take a cake pan or baking pan and arrange pre-cut banana leaves on it. Pour the mixture onto the pan and bake in the oven for 15 minutes. After this time, remove the pan from the oven and top it with sliced salted egg and grated cheese. Do not turn off the oven yet.

Place the pan back into the oven and bake for an additional 15 to 20 minutes, or until the top has turned a medium brown color. When it is done, remove the pan from the oven and allow it to cool. Brush the top with butter and sprinkle with grated coconut.

Finally, serve and enjoy your delicious creation with others. Sharing is caring after all!
Notes
Nutrition Information:
Serving: 3g
Calories: 734kcal
Carbohydrates: 83g
Protein: 13g
Fat: 41g
Saturated Fat: 31g
Polyunsaturated Fat: 1g
Monounsaturated Fat: 7g
Trans Fat: 1g
Cholesterol: 110mg
Sodium: 361mg
Potassium: 652mg
Fiber: 3g
Sugar: 35g
Vitamin A: 656IU
Vitamin C: 1mg
Calcium: 336mg
Iron: 4mg
Pro Tips for Making Bibingka Cake Recipe
Bibingka is a popular Filipino delicacy that is commonly served during special occasions and holidays. It is a sweet and savory cake made from rice flour, coconut milk, and sugar. Bibingka has a unique flavor and texture that is perfect for breakfast, snacks, or dessert. In this article, we will share with you some pro tips for making the perfect bibingka cake recipe that will surely impress your family and friends.
Use Fresh Ingredients
Add Coconut Milk Gradually
Soak the Rice Flour Overnight
Banana Leaves
Preheat the Oven
Use a Clay Pot
Top with Salted Egg and Cheese
Experiment with Different Flavors
Conclusion
Bibingka is a beloved Filipino dessert that is perfect for any occasion. With its soft and chewy texture and sweet coconut flavor, it's no wonder why it's a crowd favorite. This easy-to-follow recipe will help you recreate this traditional delight at home, and with the right toppings, you can impress your guests with a delicious and visually appealing dessert.
You May Also Like