Welsh cakes, also known as bakestones or pictures, are a type of sweet bread that originated in Wales. Welsh cakes have been popular since the late nineteenth century, when oil, sugar, and dried fruit were added to a longer-standing recipe for flatbread fried on a griddle.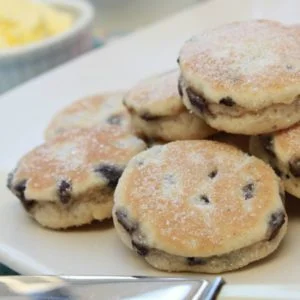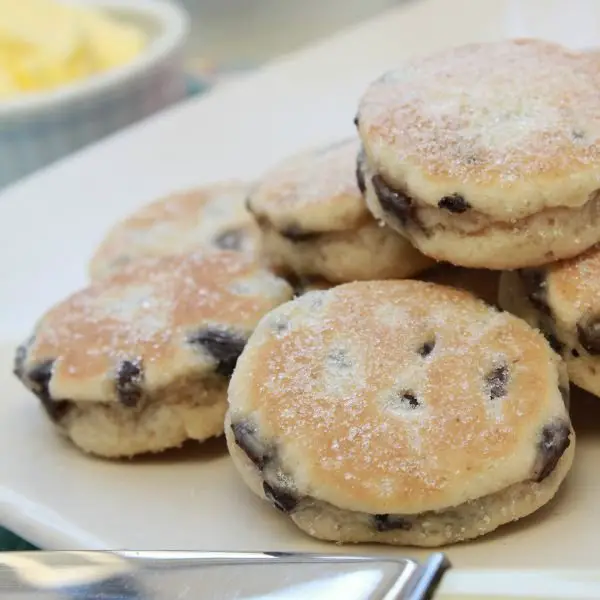 Welsh cakes Recipe
Pice ar y maen is a traditional Welsh teatime dessert that has been passed down through the years and is still popular today. It's ideal for making with the kids.
Ingredients  
225

g

plain flour

85

g

 caster sugar

½

tsp

 mixed spice

½

tsp 

baking powder

50

g

 butter, cut into small pieces

50

g

 lard, cut into small pieces, plus extra for frying

50g

g

currant

1

pec

 egg, beaten
Instructions 
In a mixing basin, combine the flour, sugar, mixed spice, baking powder, and a touch of salt. Then rub in the butter and lard with your fingers until crumbly. Add the currants and mix well. Work in the egg until you have a soft dough, adding a splash of milk if it appears dry - the consistency should be similar to shortcrust pastry.

Roll out the dough to the thickness of your little finger on a lightly floured work surface. Using a 6cm cutter, cut off circles, re-rolling any scraps. Place a flat griddle pan or a heavy frying pan over medium heat, greased with lard. Cook the Welsh cakes in batches for about 3 minutes on each side, or until golden brown, crisp, and fully cooked. Warm with butter and jam, or simply sprinkled with caster sugar, this bread is delicious. In a tin, cakes will keep for one week.
Notes
Nutrition Information:
fat 6g
saturates 1g
carbs 20g
sugars 9g
fibre 9g
protein 2g
low in salt 0.13g
Final Thought:
Flour, butter or lard, currants, eggs, milk, and spices like cinnamon and nutmeg are used to make Welsh cakes. They're basically circular, with a diameter of a few inches (7–8 cm)[citation needed] and a thickness of about half an inch (1–1.5 cm). Welsh cakes are served hot or cold, with caster sugar on top. They are not normally eaten with an accompaniment, unlike scones, though they are sometimes served split and spread with jam, and they are also buttered.