A wedding cake is the typical dessert served after dinner at wedding receptions. The wedding cake is served at a wedding breakfast in some regions of England; 'wedding breakfast' does not suggest the meal will be served in the morning, but rather after the ceremony on the same day. The cake is frequently on display and offered to guests at the reception in modern Western society. Wedding cakes were traditionally designed to provide good luck to all of the guests as well as the marriage. Nowadays, they are more of a focal point of the event and aren't necessarily presented to the guests.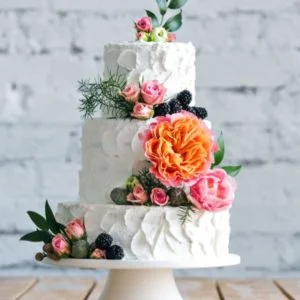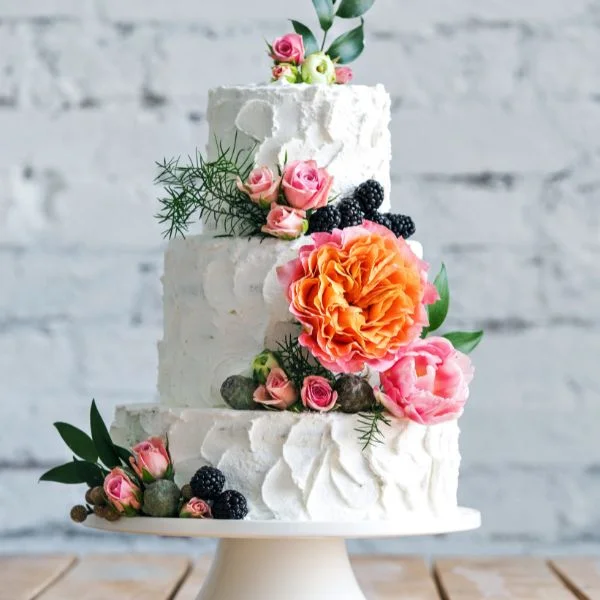 Wedding Cake Recipe
This is a moist white cake that is incredibly easy to make. It's great if you have all of your components at room temperature.
Ingredients  
Instructions 
Preheat the oven to 325°F (165 degrees C). A 9x13 inch pan or a 10 inch Bunt pan should be greased and floured.

Cream the butter and sugar together in a large mixing basin. One at a time, beat in the eggs, mixing well after each addition. After that, add the vanilla extract. Combine the flour, baking soda, and baking powder, then add to the creamed mixture and stir until the flour is completely absorbed. Stir in the sour cream last. To make sure there are no lumps, mix for 1 or 2 minutes. Pour the batter into the pan that has been prepared.

Bake for 45 to 60 minutes in a preheated oven, or until a toothpick inserted in the center of the cake comes out clean. Allow 10 minutes for the cake to cool in the pan before inverting onto a wire rack for Bunt cakes.
Notes
Nutrition Information:
Protein: 3.8g 8 %
Carbohydrates: 37.5g 12 %
Dietary Fiber: 0.4g 2 %
Sugars: 25.2g
Fat: 11.3g 17 %
Saturated Fat: 6.6g 33 %
Cholesterol: 78.8mg 26 %
Vitamin A Iu: 369.5IU 7 %
Niacin Equivalents: 1.8mg 14 %
Vitamin C: 0.1mg
Folate: 36.8mcg 9 %
Calcium: 26.6mg 3 %
Iron: 1mg 6 %
Magnesium: 6.5mg 2 %
Potassium: 53.6mg 2 %
Sodium: 98.5mg 4 %
Thiamin: 0.1mg 14 %
Final Thought:
The "bride's pie" was offered at most weddings from the 16th to the 17th centuries. Bride pie, unlike the typical sweet wedding cake, is savory. From Robert May's 1685 recipe, bride pie is a pastry-crust pie filled with oysters, lamb testicles, pine kernels, and cocks' combs. May's recipe includes a compartment of bride pie stuffed with live birds or a snake for guests to occupy the time while cutting up the pie at the table during a wedding. [4] Out to etiquette, guests were required to have a slice. It was considered impolite and unlucky to refuse the bride's pie.