Sponge cake is a light cake made of egg whites, flour, and sugar, with baking powder added if desired. Sponge cakes, which are leavened with beaten eggs, are thought to have originated during the Renaissance in Spain.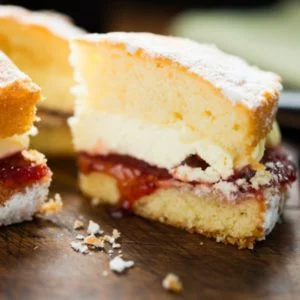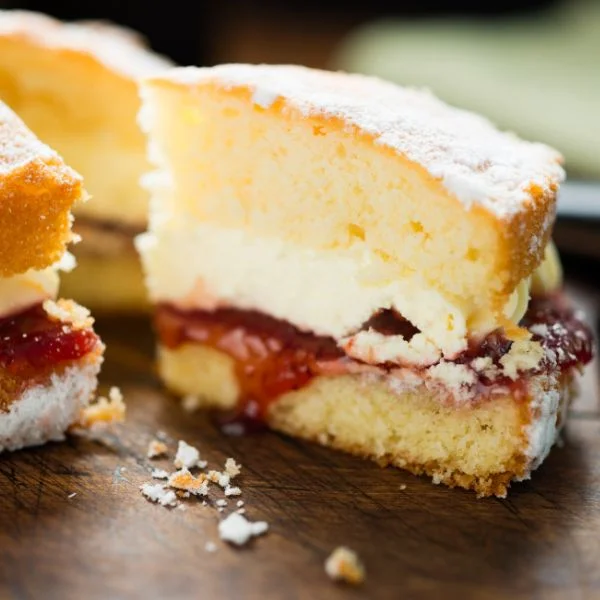 Sponge cake Recipe
For this simple sponge cake, choose your favorite filling - we used lemon curd and whipped cream, but you could also use jam. It's ideal for afternoon tea.
Ingredients  
225

g 

softened butter

225

g

 golden caster sugar

4

pic

 large eggs

½ 

pic

lemon, zested

1

tsp

 vanilla extract

225

g

 self-raising flour
Instructions 
Preheat the oven to 180°C/160°C fan/gas 4 and butter and line two 20cm spring-form cake tins with baking parchment.

Beat the butter and sugar together with an electric mixer until pale and creamy. Crack the eggs into the bowl one at a time, whisking well after each addition and scraping down the sides of the bowl. Combine the lemon zest, vanilla, flour, milk, and a bit of salt in a mixing bowl. Whisk together until just blended, then divide into the two muffin pans.

Bake for 25-30 minutes in the center of the oven, or until a skewer inserted in the center of each cake comes out clean. Remove the cakes from the tins after 10 minutes and cool fully on a wire rack. Fill in the blanks as desired. A generous dollop of lemon curd and some fresh cream, then dusted with icing sugar, is my particular favorite. It will last 3 days in the fridge.
Notes
Nutrition Information:
fat 21g
saturates 12g
carbs 40g
sugars 23g
fibre 1g
protein 6g
salt 0.7g
Final Thought:
Although sponge cake is normally baked without butter, buttercream, pastry cream, or other types of fillings and frostings are frequently used to enhance its flavor. Fresh fruits, fillings, and custard sauces soak up the tastes of sponge. During the 1920s and 1930s, sponge cake with boiled icing was particularly popular in American cuisine. Because of the delicate texture of sponge and angel food cakes, as well as the effort of making them, they were more expensive than everyday pies. Sponge cake with lemon filling and boiling icing was served at Atlanta's renowned Frances Virginia Tea Room. Crumperie in New York City offers toasted sponge cake in addition to crumpets.