A cake that is baked "upside-down" in a single pan, with the toppings at the bottom, is known as an upside-down cake. The finished upside-down preparation is flipped over and de-panned onto a serving dish after being withdrawn from the oven, thus "righting" it and serving it right-side up are the main ingredients of upside-down cake.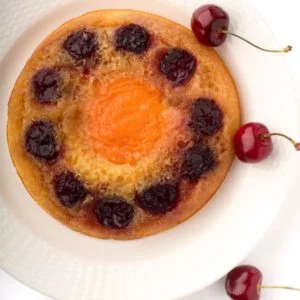 Pineapple upside-down cake Recipe
This classic pineapple upside-down cake is a wonderful centerpiece for afternoon tea and brings back many memories from childhood.
Ingredients  
For the topping
50

g

softened butter

50

g

 light soft brown sugar

7 

pineapple

rings in syrup, drained and syrup reserved

7 

glacé

cherries
For the cake
100

g

softened butter

100

g

 golden caster sugar

100

g

 self-raising flour

1

tsp

 baking powder

1

tsp

 vanilla extract

2 

pec

eggs
Instructions 
Preheat oven to 180°C/160°C fan/gas 4 (180°C/160°C fan/gas 4).

To make the topping, mix together 50g melted butter and 50g light soft brown sugar until smooth. Spread over the bottom of a 20cm round cake tin and a fourth of the way up the edges. Place 7 pineapple rings on top (reserving the syrup for later) and 7 glacé cherries in the rings' centers.

In a mixing bowl, combine 100g melted butter, 100g golden caster sugar, 100g self-raising flour, 1 tsp baking powder, 1 tsp vanilla extract, and 2 eggs, together with 2 tbsp pineapple syrup that has been set aside. Beat to a soft consistency using an electric whisk.

Place it on top of the pineapple in the tin and smooth it out so it's level. Preheat oven to 350°F and bake for 35 minutes. Allow to cool for 5 minutes before turning out onto a plate. Serve with a dollop of ice cream while it's still warm.
Notes
Nutrition Information:
fat 23g
saturates 14g
carbs 49g
sugars 36g
fibre 1g
protein 5g
low in salt 0.87g
Final Thought:
The American pineapple upside-down cake, the French Tarte Tatin, and the Brazilian or Portuguese bolo de ananás are all examples of traditional upside-down desserts (also known as bolo de abacaxi). After the Dole Pineapple Company launched a contest for pineapple recipes in the mid 1920s, pineapple upside down cakes became popular in the United States. They received almost 2,500 different submissions for the inverted pineapple cake and ran an advertisement about it, which helped the cake become more popular.