In England, a teacake is a light yeast-based sweet bun with dried fruit that is traditionally served toasted and buttered. Teacakes can be cookies or miniature cakes in the United States. They're soft, round, flat wheat breads prepared with milk and a little sugar in Sweden, and they're great for buttered ham or cheese sandwiches. A teacake is more like a butter cake in India and Australia. Tea is the name of the popular beverage that these baked pastries go well with.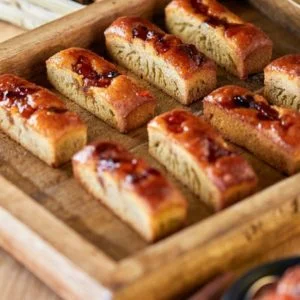 Honey Tea Cake Recipe
This delicious, dense honey tea cake is ideal for an afternoon snack.
Ingredients  
1 ⅓

cup 

all purpose flour

1

teaspoon

 baking powder

1 

teaspoon

 salt

¾ 

cup

 sugar

4 

pic

large egg yolks at room temperature

1

pic

 large egg at room temperature

½ 

cup 

heavy cream at room temperature

2

teaspoon

vanilla bean paste

1 stick & 3

 tablespoon 

butter at room temperature

¼

cup

honey warmed up and diluted with 2 tablespoon hot water
Instructions 
At begin, preheat the oven to 350 degrees Fahrenheit, then grease and flour an 8.5 by 4.5 inch baking pan and set it aside.

Whisk together the egg yolks, egg, heavy cream, and vanilla extract in a medium mixing dish.

Sift the flour, baking powder, and salt into a stand mixer bowl. Mix in the sugar until it is completely blended (about 20seconds). Add the softened butter and half of the egg mixture to the mixer and beat on low until combined (about 3 minutes.) To make a thick and airy cake batter, increase the speed to medium high and beat for another 3 minutes. Reduce the speed to low and add the remaining egg mixture, gently mixing until well combined (about 2 minutes)

Bake for 35-45 minutes after pouring the mixture onto the baking pan. When the cake no longer jiggles in the center, the top is golden brown, and a knife or wooden skewer put in the center comes out clean, the cake is done.

Prepare the honey syrup 5 minutes before pulling out your tea cake loaf. In a small measuring cup or basin, combine the honey and water and stir until a thick syrup forms. After removing the bread from the oven, quickly brush the top with honey syrup. If you don't have a brush, you can drizzle it on top.

Remove the loaf from the oven and set it aside to rest for 20 minutes before running a spatula around the sides, lifting it out, and setting it aside to cool for another 20 minutes on a wire rack. Serve right away or keep in the fridge for up to 4 days in an airtight container.
Notes
Nutrition Information:
Sodium: 368mg
Calcium: 45mg
Vitamin A: 709IU
Sugar: 6g
Fiber: 1g
Potassium: 43mg
Cholesterol: 91mg
Calories: 224Calories
Saturated Fat: 5g
Fat: 16g
Protein: 3g
Carbohydrates: 17g
Iron: 1mg
Final Thought:
As if I hadn't previously extolled the virtues of this lemon tea cake… But I have no qualms about repeating myself! This honey tea cake is a simple confection that will wow your guests.
It's incredibly simple to create! All you have to do is combine the ingredients in a baking dish and bake it.
At the same time, this tea cake is moist and substantial!
Even though I'm writing this in July, this honey loaf recipe may easily be adapted for the holiday season. It'll be a fantastic Christmas dessert.