Red velvet cake is Maryland originated red-colored chocolate layer cake. Cocoa powder is the main ingredient to bake red velvet cake. This non-Dutched and anthocyanin-rich cocoa powder make the velvet cake red-colored without adding a food color. 
But someone doesn't like cocoa powder to make their favorite cake. When you bake a velvet cake without cocoa powder, you will get pink-colored velvet cake instead of red-colored. 
What does cocoa powder do in baking? 
Cocoa powder is an essential ingredient that changes the color and taste of a cake. It is produced from the seed of a cocoa tree.
There are 2 types of cocoa powder:
Natural Cocoa powder which is processed from cocoa beans. It's commonly used in the baking industry.
Dutch-process cocoa powder which is also produced from the cocoa following extra processing steps to reduce acidity levels.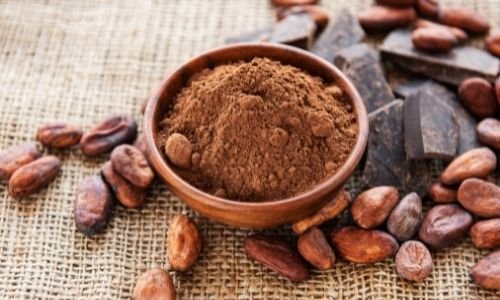 When we use cocoa powder to bake our favorite cake, it changes color to red. It also changes our cake taste to mellower dusted on truffles, if we use Dutch-process cocoa powder. Because it's alkalized which makes the flavor milder and reduces the acidity. 
Is it possible to bake red velvet cake without cocoa powder?
When you are ready to bake the red velvet, cocoa powder is considered the first ingredient on your list. Your cake color and taste seem to change without it. Substituting cocoa powder means you will get a different color velvet cake.
There is a great solution to bake red velvet cake not using cocoa powder. You can use a food color instead of cocoa powder. Here is the recipe: 
Ingredients
2 ½ cups all-purpose flour
1 tablespoon baking soda
1 tablespoon salt
1 ½ cups sugar
1 cup buttermilk
1 3/4 cups vegetable oil
2 eggs
1 tablespoon vanilla extract
1 oz red food coloring
1 tablespoon white vinegar
Frosting
8 oz cream cheese
½ cup butter
1 lb confectioner's sugar
1 tablespoon vanilla extract
Directions
Step-1:
You need to preheat the oven to 350 degrees Fahrenheit. Mix flour, salt, and baking soda together.
Step-2:
In a separate bowl take cream sugar, eggs, and oil. Then slowly blend in dry ingredients into creamed mixture.
Step-3:
In this third step, you need to add vanilla extract, red food color, and vinegar until it blends properly.
Step-4:
Then pour into 2 well floured 9-inch cake pans. Bake it in preheated 350 degrees F for 30-35 minutes. After that let them cool.
Step-5:
For making frosting mix well the cream cheese, butter, and confectioner's sugar together until smooth. Now add the vanilla extract and mix well. Then spread this frosting over the cake.
You Might Also Like