The term "gingerbread" refers to a large group of baked foods that are often sweetened with honey, sugar, or molasses and spiced with ginger, cloves, nutmeg, and cinnamon. Different gingerbread dishes exist, from a soft, moist loaf cake to something that resembles a ginger snap.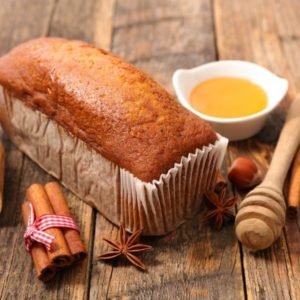 Nonnettes (French Gingerbread Cakes Recipe)
Small gingerbread cakes with jam inside and a tart lemon frosting on top are known as nonnettes, which is French for "little nuns" and has been around since the Middle Ages. They are simply impossible to resist!
Ingredients  
1/2

cup

 pure honey

1/2

cup

packed dark brown sugar

3/4

cup

 water (use 3-4 tablespoons less if using only all-purpose flour instead of rye. Add a little more water back if needed.)

6

tablespoons

 unsalted butter

3

tablespoons

 neutral tasting oil

1 1/2

cups

 (200 g) all-purpose flour

3/4

cup (80 g)

rye flour (use less rye flour/substitute more all-purpose flour if you prefer a lighter/less dense texture)

1

tablespoon

Homemade Pain d'épices Spice Blend

1

tablespoon

ground cinnamon

2

tablespoon

baking powder

1

tablespoon

baking soda

1/4

teaspoon

 salt

1

teaspoon

rum

1

teaspoon

quality pure vanilla extract

2

teaspoon

fresh orange zest

1

pic

large egg yolk

3/4 

cup

 powdered (confectioner's) sugar

3

tablespoons

 freshly squeezed lemon juice
Instructions 
Set the oven to 375 degrees Fahrenheit.

The butter, oil, water, honey, and brown sugar should all be combined in a small saucepan over medium heat and stirred just until melted and smooth. While you prepare the dry ingredients, remove from the fire and allow the mixture sit for a few minutes.

The flours, baking soda, baking powder, salt, cinnamon, and handmade pain d'épices spice blend should all be combined in a large mixing basin. To blend, stir. Pour the honey mixture into the flour while it's still warm, then swirl to blend. Rum, vanilla bean paste, orange zest, and egg yolk are all added and mixed.

Butter a pan for small cheesecakes (you can also use a muffin pan but I prefer the size and shape of the mini cheesecake molds). Half to two thirds of the batter should be placed in each mold. Create a depression in each and fill it with a spoonful of jam. Put less batter in the molds at first, add the jam, and then add a bit more batter on top if you wish the jam to be totally inside the cakes.

Until the dough springs back when lightly touched and the nonnettes are golden brown, bake them for 12 to 15 minutes. Prepare the glaze by combining the sifted powdered sugar and lemon juice in a small bowl and stirring until the sugar is dissolved while the nonnettes are baking. Pour the glaze over the nonnettes while they are still warm and in their molds, allowing it trickle into the molds from the sides as they cool (this will allow the glaze to penetrate the cakes). Remove the nonnettes from the molds once they have cooled.

The nonnettes can be kept for up to a week in an airtight container. Nonnettes taste great when eaten warm or at room temperature. depending on size, produces up to 18
Notes
Nutrition Information:
Carbohydrates: 28g
Protein: 1g
Fat: 6g
Saturated Fat: 2g
Cholesterol: 20mg
Sodium: 97mg
Potassium: 84mg
Sugar: 16g
Vitamin A: 130IU
Vitamin C: 0.8mg
Calcium: 31mg
Iron: 0.7mg
Final Thought:
Around the world, gingerbread can be found in a great range of shapes, with each nation having its own well-known type. Nonnettes continue to be a culinary legend in France. Small gingerbread cakes called nonnettes are baked with honey and marmalade (commonly orange). Their flavor profile is comparable to that of pain d'épices (French spice bread/gingerbread), using several of the same spices. Both of them also have rye flour added.