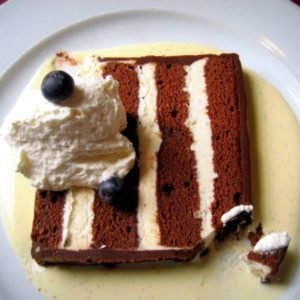 Esterhazy Torte Cake Recipe
This Hungarian Esterházy torte is a rich dessert consisting of chocolate buttercream sandwiched between four layers of sponge cake. It is purportedly named after 19th-century Prince Esterházy of Hungary, of a family close to Austrian royalty (and all their fabulous desserts).
This is a traditional Old World recipe, so it will take some time, but the fondant icing is not the type that has to be kneaded, ripened for several hours, and remelted.
Ingredients  
Instructions 
Heat oven to 350 F. Line 4 (8-inch) round baking pans with parchment circles. Alternatively, you can line one 8-inch round pan with parchment, but you will have to split this cake into 4 layers.

Beat egg yolks with sugar until light and lemon colored. Sprinkle ground almonds and flour over batter and fold in gently. Fold in the egg whites and lemon juice or vanilla carefully so as not to deflate the batter.

Portion batter evenly into prepared pans. For 4 pans, bake about 10 to 15 minutes or until cakes pull away from sides of pan and top is golden brown. For 1 pan, bake 30 to 40 minutes or until golden. Cool in the pans.

Melt 10 ounces of chocolate in a heatproof bowl in the microwave. Stir and set aside to cool. With a stand mixer or hand mixer, beat the butter with the paddle attachment on low for 2 minutes, medium for 3 minutes and high for 5 minutes. Transfer to a large bowl.

Place egg whites and sugar in the top of a double boiler over medium heat. Whisk gently to 120 F on a candy thermometer. Transfer to a clean and dry mixer bowl and beat with the balloon whisk on high until stiff peaks form; about 5 minutes. Fold melted chocolate into butter, then fold in egg whites.

On a serving platter, place one sponge cake layer and spread with 1/4 chocolate buttercream. Repeat 2 more times and top with the last sponge cake layer. Reserve the last 1/4 of buttercream for the sides. Refrigerate, covered, 1 hour.

Mix the melted apricot jam with the hot water and strain, then brush the entire top of the cake with glaze and let it dry for 15 minutes.

Place all fondant ingredients in a small saucepan and stir until well mixed. Set over low heat and stir until dissolved. Don't let the temperature exceed 100 F on a candy thermometer. If glaze doesn't look opaque enough, add more powdered sugar.
Notes
Nutrition Information:
50g Fat
77g Carbs
11g Protein