Punschkrapfen or Punschkrapferl, often known as punch cake, is a traditional Austrian pastry treat with a delicious rum flavor. It resembles the petit four, a type of French dessert.
Punschkrapfen are now available in the majority of bakeries and pastry stores in Austria and the Czech Republic.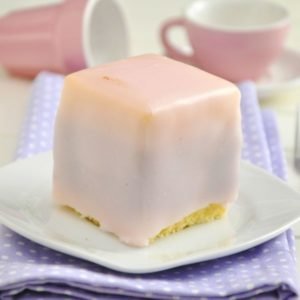 Austrian Punschkrapfen Cake Recipe
This typical Austrian treat is made with eggs, apricot jam, rum, or grand mariner. These delectable little sweets, also referred to as fondant squares,
Ingredients  
Sponge Cake
Filling
2

Sheets

 Sponge Cake

1 ⅓ 

Cups 

Apricot Jam

3

tbsp 

Grand Mariner add more to taste

2

tbsp

 Cocoa Powder
Fondant Glaze
3 

Cups 

Powder Sugar

1

 drop

 Red Food Dye

4

Tbsp

 Lemon Juice Add until you get the correct consistency
Instructions 
Sponge Cake
Separate the egg whites from the yolks. In a bowl, add the egg yolks, powdered sugar, and vanilla sugar. Beat until well-combined and light in color. Set aside

On the bottom of an oven tray, evenly distribute a layer of baking paper that is about 1 centimeter thick. You should have enough for two trays that are 1.2 inches wide. till browned, bake (8-10 minutes at 180 C ). Test with a toothpick. Due to its thinness, this will bake fast, so exercise caution. reserve for cooling.

It's now time to cut out the krapfen forms. I used a round stencil, but you can use any shape you like. To make the filler, set aside an equal number of the recently cut-out forms.
Filling
The remaining sponge should be broken up into tiny pieces, added to a bowl along with the apricot jam and grand mariner (or an appropriate substitute), and stirred until a thick paste was formed. Don't add the liquid all at once; you don't want the paste to become too runny. If you require more liquid, you can add orange juice. The final product should be a thick paste. Give it 30 minutes in the fridge to rest.
Assemble
Each punch krapfen is a sponge, filling, and sponge sandwich with apricot jam as the binding agent. I used a stencil form to hold everything together and compress it, but you could also do this by hand. Spread a thin layer of apricot jam over a piece of cut-out sponge. You may finish your unglazed punch krapfen by adding a layer of filling and then another sponge (with a thin layer of apricot jam). Prepare and arrange all of your sponge-filled sandwiches. The glaze needs to be prepared.
Dunk in Glazing
To get a thick but smooth mixture, add the lemon juice (or water/milk) gradually while mixing the powdered sugar in a medium bowl. It need to be thick enough to dip the krapfen in. Add one drop of red food coloring to achieve the standard light pink hue.

The top of the krapfen should first be dipped into the fondant. You can keep it slightly in place with a fork to prevent getting prints on the top. Place on a drip grid or baking paper after letting the glaze set.

If you have the patience, you may let them sit in the fridge over night to enhance the flavor before enjoying your delectable Austrian punch krapfen.
Notes
Nutrition Information:
Carbohydrates: 160g
Protein: 11g
Fat: 5g
Saturated Fat: 2g
Cholesterol: 187mg
Sodium: 405mg
Potassium: 194mg
Fiber: 2g
Sugar: 114g
Vitamin A: 355IU
Vitamin C: 7mg
Calcium: 76mg
Iron: 4mg
Final Thought:
The rich cuisine and, especially, the desserts were two of my favorite aspects of growing up in Vienna's center. There were simply too many amazing foods for me to pick a favorite, but if I had to choose, these would be my favorite Viennese desserts: